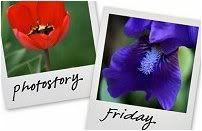 Hosted by Cecily and MamaGeek
We are expecting in this household!
No, not me, silly, I am a bit long in the tooth for that and even if I were to have hormone treatment, some of my *bits* are not there now. Nor is my daughter in law, Kaiko expecting (as far as I know) and the girls are far too young!
No, the mother to be happens to be a wren! I first noticed a pair of wrens going backwards and forwards towards the kitchen roof. Then I noticed that they were collecting things from the ground. Leaves and twigs, sometimes as big as themselves.
Years ago, I bought these little pouches and nailed them under the overhang of the kitchen roof. No bird has ever taken the slightest bit of notice of either of them before until now, that is. It seems that this dwelling is a wren's version of a superior detatched home and isn't it Sod's law that we were about to take the kitchen roof off and now our plans will have to be put on hold? Wild birds nesting are protected in this country and we cannot move them. Nor would I want to. I am now going to have to Google for information on how long it takes for all this nesting, laying, sitting and fledging to take.
As most of you know, my blog mentor for photography is
David Mcmahon
from
Authorblog
and I know that if he visits this post he will not be impressed with these photos that seem to be blurred and not in good focus. The wren looks like a tiny dot under the nest but that is as far as I could zoom in. My camera is lacking in ability to catch moving birds and does not have the capacity to enlarge the tiny creature any further.
However when I saw this tiny pair of wrens, I rushed to get my camera and I had to take the photo through my not so clean window, in order not to disturb them by opening the back door which is right by the pouches.
My camera is a Pentax Optio and has served me very well for ordinary photos and long distance views and snapshots of people. However, the time has come for me to specialize a little more and I am wondering whether to get a Canon Powershot SD990 IS (USA) otherwise known as Digital IXS 980IS in Aus and UK. My son
Sam
has bought one of these and has taken some good shots of close up creatures that has really impressed me.
Or shall I update my Pentax with the new Optio S12 which has a more powerful and faster lens than my old one and it is cheaper than the Canon?
I would love to know what you all think and which way I should go. Do any of you amateur photographers have either of these cameras?
I wrote this post a few days ago and thought that I would leave it for Photostory Friday and do you know what has happened? The wrens have abandoned ship! Maybe they thought we were too close to their nests or maybe its the four cats next door, who might have had them for their tea. Anyway, whatever it is, we are not expecting anymore and I feel really sad!