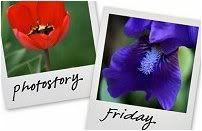 Hosted by Cecily and MamaGeek
Harry and I knew that the visit to our daughter's on the east coast would be a working holiday, before we even got there.
You see, the brick wall on the side of the front garden had been hit down for the second time by traffic turning in the service lane nearby.
Harry, who is a *retired* builder, put as many tools as he could carry into a hold all because, as usual, we were travelling by express coach.
It took all of us, including the boys, to knock the fallen wall into moveable chunks so that we could dump the bricks into the skip.
As the wall had been shoulder high the bricks covered a great part of the lawn and because the insurance refused to pay the second claim, we had to think of a cheaper way of fencing the garden off, so it was decided to put in wooden posts and link fencing. This was well over two days non stop work for Harry and it didn't look very nice when it was finished. Deb came up with the idea of putting a reed/bamboo screen in front of the chain link fencing for privacy.
This was a favourite flowering shrub that had been shaped into a little rounded tree. Unfortunately it was felled by the wall so had to be sacrificed.
The screening did look much more pleasing to the eye and I hope by the next time we visit, all will be as we left it.
We visited several local garden centres and were pointed in the direction of Photinia shrubs to make a hedge. We were assured that they would grow as high as we wanted up to eight feet, and would thicken into a hedge fairly quickly. The ends of the branches are a lovely red colour at this time of the year. Obviously named Red Robin for a reason. I had never really paid much attention to this plant before but noticed it in many gardens in that part of the country, so it obviously thrives there.
There is quite a pretty outlook in the front of the house but it is more built up at the back. There are birds nesting nearby and lots of wild life all around. Makes my city garden birds seem more precious though, as we don't get as many visiting, nor a fraction as many of the different species that I spied in this garden. The bird song seemed very loud and lovely.
Harry and I were extremely tired by the end of the holiday and our arthritic limbs were screaming out. However, we had a great sense of achievement after shifting such a large quantity of bricks and mess which was an eyesore and leaving Deb with a more pleasing fence to look out on.
We are now home from holiday for a long earned rest!