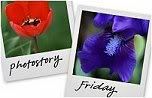 Hosted by Cecily and MamaGeek
All photos are copyright of Maggie May.
Well obviously it isn't a real tub tree but a giant stand with tubs of plants hanging from it.
I first noticed this strange sight when I was visiting Weston Super Mare and I had to stop and take a photo.
Two weeks later, I was there again and the flowers had really opened up during that extra time in the sun.
You will notice how much bulkier the tub flowers had become and how the tendrils had grown from the displays.
There were lots of people about and quite a few were snapping photos, so I really had to wait to get mine. It was a very crowded street.
The photo below was taken at the same time as the top one and when I took these two photos, I thought they looked really lovely, having no idea how much difference it would make to their appearance waiting a couple of weeks. I am really pleased that I did retake now.