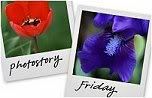 Hosted by Cecily and MamaGeek
All photos copy right of Maggie May.
By now, people will know that I do love the city of Bath in Somerset. I go there a lot.
I was drawn to Pulteney Bridge, last time I visited. Go
here
if you want more information.
At the back of the shops is a drop into the weir. Last Wednesday I used a photo of the weir for the Watery Wednesday meme.
Here
.
However, at the front there is a busy shopping community, all built on a bridge!
It was a flower shop that caught my eye.
Crossing the street I ventured closer and using my new camera, which is a digital Pentax P70, I zoomed in on the flowers. There were so many people about that I had to wait a long time for the shop to clear of pedestrians passing by.
Maybe I should zoom in a bit more. It is a lovely shop, don't you think?