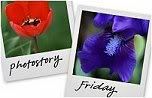 Hosted by Cecily and Angie
Photos are copyright of Maggie May
We started back at school following the summer holidays, on a Thursday and during the following week, there were two inset days that fell on the Thursday and Friday. This meant no school for the children and non for me on the first of the two days.
The childrens' dad had an offer of a few weeks work, so Granddad and I decided to take the girls to Weston Super Mare on the bus.
I think it must have seemed a long drawn out journey for them as they are used to going in the car everywhere much more quickly. However they were quite excited about going on the top deck of a bus and being able to see over all the hedge rows.
It was a beautiful day and we took a picnic and spent a long time making sand castles and paddling. The water was warm and shoals of little fish came into the very shallow water of the safe paddling area that has just been reconstructed for children. Within a short time seagulls began swooping down and eating the fish.
We made a lovely building and a moat but while we were eating lunch, some children jumped on it so this is all that was left, much to the annoyance of the girls.
The following day, I had to go into work for the first half of the day, for training. We asked Amber and Millie what they would like to do in the afternoon after I got back and they asked to go to Brandon Hill to feed the squirrels. This is a very lovely spot, high on a hill in Bristol. This beautiful part of the city is in the central area near the University and museum.
Granddad and I are obviously feeling our age when we climb up the very steep hills. Come to think of it, Bristol is all hills! Anyway, there are lots of seats to sit on while we catch our breath.
The squirrels were very tame and came out in threes and fours, taking the peanuts that we had brought, though this proved to be very difficult when the pigeons arrived. It was then a competition as to who could get a nut to a squirrel and not a pigeon.
This picture was very weird because the squirrel was shrieking in a very loud and strange voice. I had never come across that sound before, so whether it was a mating cry or a cry of anguish, I do not know. It was like a bad distress call. Maybe some reader would know?
At the time of the trip, Bristol had several dozen pianos left in unusual places around the city and this one was on a hill with a view for miles around, behind it. The girl who was playing fairly well gave permission for me to snap her from the back.
The pianos were part of a project to promote music and give ordinary folk a chance to play in public. In some areas one or two pianos had been vandalised but on the whole this was a very popular idea and most of them were left alone.
Of course the girls had to have a go too.
Photostory Friday is hosted by
Cecily
. Why not drop in and some some really good photo stories.