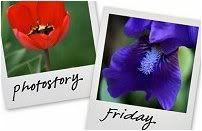 Hosted by Cecily and

MamaGeek
I don't normally like modern architecture, not for the sake of it that is. However there was something about these glass domes in this new shopping centre, that really caught my eye. I was like a kid in a toy shop at Christmas.........
and  
I had my camera handy. I started snapping without a care in the world.
Up on a higher level, things got even better, snapping glass domes through other glass domes and the patterns were fantastic. I was really looking forward to going to the very top level and taking photos looking down through the glass domes and seeing all the angles and unusual shapes that would come out in the photos.
"Excuse me," said a voice of a man behind me, "You can't take photos here." 
I turned around and saw the security guard! Gulp.
"Its just that these glass curves in the roof are so fantastic," I stammered. "I am an amateur photographer. They are only for my own use."
"You will have to get permission if you want to take photos here," The guard went on to say.
I half expected him to demand that I delete the photos from my camera or worse still to confiscate it. 
I went on to ask where I could get permission. The man, who was speaking in a very heavy foreign accent, told me some brief instructions that I didn't fully understand, so off I went. I had to go right to the top of the precinct to get to the Management Office. 

Was I feeling unusually bold? I figured that as I was probably captured on thousands of CCTV cameras as a would be terrorist, that I had better go and make it legal and explain my case.
After much asking around (why did I always chose a foreign person each time, who I couldn't fully understand) I did eventually get to the Management Office. The doors were heavily locked and there was not a person in sight.  
Surely that security guard must have known that the office was closed. Is that what they do to put people off? Make it so difficult that they hope people will not bother?
So that was that then. I looked down at the glass domes and realized what it must feel like to be a junkie needing one more fix, or a gambler needing just another bet, an alcoholic needing one more for the road. What was happening to me? 
I clenched my hands in my pockets so that I wouldn't be tempted and tried to think of other things. 
I would find a way to come back some time in the future and ask the Management Office if I could take the photos from the top level.
So for the sake of security, I cannot tell you where these pictures were taken. In which town or city or even in which country. However I will reveal to you that it is somewhere in Europe.
However, as I didn't have the camera interfered with in any way, I feel that it is OK for me to use the pictures that I had already taken.
Am I wrong? Gulp!