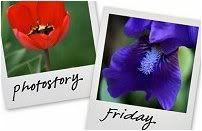 Hosted by Cecily and

MamaGeek
Not long ago I described a lovely walk that I enjoyed with my sister in law and these are some of the photos that I took as we walked along the cycle path.
I described how dangerous the silent cyclists were when they sneaked up behind us with out warning, not ringing their bells or shouting out that they were there.
However,  all this cycling  talk reminds me of the last time I was on a bike myself, only few years ago.............
I used to cycle to and from work........... but not anymore!
One lunch time, I happened to be cycling home from work and was waiting at a junction to turn right into a very busy main road and I can remember pulling away.......... 
The next thing I remember was lying on my back in the road and an ambulance was not far away. I could see it. A lady was saying, "Now don't you worry about the blood, a little bit goes a long way. You silly girl why didn't you wear a crash helmet?" 
The paramedics had arrived by then and put a neck brace on me and slid a straight board under my body. The right temple over my eye brow was gushing blood. They bandaged it.
I was worried about what would happen to my bike and a woman in one of the houses said she'd take it in for me.
It turned out (and I only learned this later from other people), that an elderly driver had driven into the back of my  bike while trying to pull away on the same righthand turn too, but had not given me time to get away.
When she saw what had happened, she ran away to get someone to help, leaving me to lie unconscious in a busy road that has juggernauts thundering by. Anyway I was well out of it so didn't know the danger I was in at the time.
After a couple of days in hospital suffering from concussion, throwing up and so dizzy that I could hardly walk, I looked a sorry mess with black eyes, bruising and swellings on various bits of my anatomy, I had to take a couple of weeks from work and was sore for ages.
People used to joke as to whether my old man had given me the black eyes. Not so funny after the first half dozen times you hear that!
I did try and get back to cycling again, after I'd had the wheel straightened out, but it wasn't the same after that.
Flashbacks........