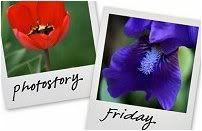 Hosted by Cecily and MamaGeek
At the school where my granddaughters attend, they recently held an International Day and invited the pupils to pay a pound to wear outfits from other lands. This was in aid of Children In Need.
Obviously Amber and Millie each put on  their Japanese yukata. Children made a real effort (or their parents did) and they came dressed in beautiful Spanish costumes, cowboy outfits, African robes, and anything else you could imagine.
A fair proportion of children at school are of mixed race as are my granddaughters, or more correctly, dual nationality, or mixed heritage. Not like when I was a child and the term was half ----. I'm sure it wasn't intended to be unkind, it is just the way things were then.
Millie, the youngest, has a best friend who is Anglo/ African and they truly love each other. They really do look very good together and throw their little arms round each other in greeting each day and don't like to stray from each other's side. They have started having each other round for visits and now the bigger sisters are getting friendly too.
I think it is really good that children are encouraged to celebrate and be proud of both of their inherited countries.
One thing I have noticed though, is that the children of dual nationalities do seem to  be rather beautiful! I expect I am very biased!