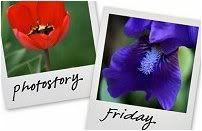 Hosted by Cecily and MamaGeek
For some reason we seem to keep this card from year to year and it always turns up somewhere or other in the Christmas displays of cards.
This little, rather tacky Nativity model was bought recently from a charity shop at a very cheap price.
The reason that I bought it was because I thought that my granddaughters would ask me questions about it and I could then explain who the characters were. I thought it would appeal to small children more than the traditional picture above.
Having been brought up for their first few years in Japan, they are officially Shinto/Buddhist.
This is because they were born over there and they have inherited this religion. It's more of a tradition than a personal belief, though.
It has turned out that there was no need for me to have to explain anything about the little figures, because school is teaching them about Christianity already.
I was really pleased when Amber, the oldest granddaughter, told me that she believed that Jesus had died for her and that he is now in Heaven. She explained everything to me in great detail.
I was amazed because I didn't think that state schools still taught Christianity, as the one they go to is not a Church School. Well, after all it is Christmas, so why shouldn't they be taught what Christianity is about?
Maybe the other religions will get a look in later on........ I don't know, but for now, I am pleased that the school has started the ball rolling.
Millie the youngest granddaughter took one look and said,"Oh no, that is so embarrassing."
As we thought this was a rather unusual thing for a four year old to say, we asked her what she meant.
"There are too many people in the house, there are only mean to be three!" So obviously she also has been taught about the fact that Mary and Joseph and baby Jesus were in the stable.
My Grandsons are already Christian, the oldest by choice and the younger one is thinking about taking a step further. They are familiar with Church and go regularly.
In the end, it has to be a personal decision. It is my belief though, that if children don't know what the faith is about, they can't make a decision and that would be a great pity, I think.