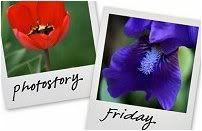 Hosted by Cecily and MamaGeek
I was travelling on the bus in Bath, when I saw this hot air ballon. Fortunately, I had my camera on me and after a few attempts I managed to get a reasonable picture of it. Of course it was taken through the glass window but I didn't think it was too bad a shot.
Anyway, seeing this hot air balloon reminded me of the time when my husband, Harry and his twin brother, Larry, were about to be 65. My sister in law, Rhoda had decided it would be a good idea to treat Larry to a hot air balloon ride and my son Sam and daughter Deb decided to treat their father too, so that the twins could go together.
We had thought that it would be a fairly simple operation and that they would be able to just take off after the tickets had been paid for.
How wrong we were. We were told that the weather had to be just right and that the twins had to be prepared to come when summoned at short notice.
Unfortunately, they could only do that on a Saturday or Sunday evening, as Harry was still working, and they were put in a long queue and their Birthdays came and went!
The summer of that year was not really good and weather conditions were either too windy or too rainy. The company didn't want to run the risk of them crashing into the sea or being knocked into a power line. There is not much margin for error if the weather is wrong or suddenly turns bad.
Anyway, after waiting weeks and weeks for the flight, we had the phone call saying that the flight was imminent and the four of us quickly managed to get to the given site in time for a Sunday evening flight.
We all watched while the hot air was pumped into the balloon shell and the pilot told the twins to get in. Not an easy task to climb into the wicker basket, as they are not particularly tall. There were two other people going with them. No, Rhoda and I preferred to stay on terra firma. 
The balloon shot up fairly quickly and after lots of waving they took off towards some trees. It looked like they were going to go directly into them, but they managed to skim over the treetops. The weather was almost windless and the balloon hovered over the city and did not seem to go very far at all.
After what seemed like only a few minutes, the balloon started descending slowly and we wondered where it would come down. We had been told that they would be brought back to the starting place, so Rhoda and I just waited.
Apparently they had hovered over the city and seen some amazing sights and for some reason had landed in a park in a rather rough area. The balloon was mobbed by teenagers and the twins were a bit worried they would be mugged or something. However the balloon and the twins were packed safely into the land rover and brought back. They had a fantastic time but were a bit disappointed that they didn't get a longer journey. No two trips are ever the same apparently.