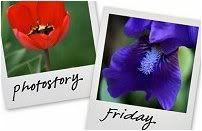 Hosted by Cecily and MamaGeek
This photo is very poignant for me and as you know, I don't normally put photos of family faces on my blog, even darkened faces. 
It is the time of the year that makes me think of my Mother. She died almost to the day, in the year 2001 and most of us were able to get to the funeral, even though we were all scattered about the country and in my son's case the other side of the world.
However it was several years later when we all got together on one of Sam's visits from Japan that also coincided with Deb's visit from the east coast, following a family event, that we all decided to go to visit my mother and father's grave.
Sam and Kaiko, with Amber and Millie, Deb and Rick and Dean, my brother and wife and their daughter and son, stood by the gravestone for a while. We explained to the grand daughters and grandsons about my mother and father and some of the things they had done in their lives. We explained how we were all related. Amber and Millie had not been born in time for my mother to see them and my father had not seen any of the four grandchildren.
Some of us decided to link arms, and stand in this circle, and Sam crouched in the middle with the camera. Some said a prayer or two and some just needed to do the huddle without.
I am in the bottom right hand corner and going  anti clockwise is my daughter, husband, niece, sister in law, brother and nephew.
It made us all feel we belonged and seemed to bring the family closer together, for that day, at least!