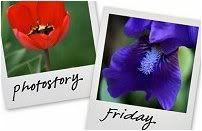 Hosted by Cecily and MamaGeek
It wasn't long ago that I wrote a post
The Empty Box
explaining that I had been presented by our city council with a voucher that was worth a good deal of money because of my long service working for them.
I had bought a gold bracelet, worth far more than I would ever be able to afford normally.
I explained my horror of finding it gone from my wrist and not knowing where or when I had lost it. I wrote about the possibilities of who would have found it and what they might be thinking. 
I told about all the hard work I had done in the special school where I had worked for years lifting heavy children and spoiling my back. Of all the s**t I had cleaned up over the years and then all the crates of sandwich boxes that I had lifted, causing further back injury and all the freezing days I have worked in the playground all for nothing! I wrote that I doubted that I would ever get the bracelet back and that I had come to the conclusion that it was only a material thing that was not worth fretting over. I had never had it before and hadn't got it now. I was resigned to that fact. It had been lost for over four months before I felt I could post about it. 
Well. Do you believe in miracles?
Just before Christmas, I searched a small top drawer in a chest in my bedroom. I was actually looking for something else. I saw a small flash of gold. I pulled out my bracelet. I was dumbfounded. The bracelet was fastened, so I must have taken it off. I definitely knew that I wouldn't have put it in that drawer though. I usually either kept the bracelet on or kept it in its box in a locked cabinet. 
After careful reflection, I realized that I had on occasion put it on top of that chest of drawers while I had a shower. The drawer must have been partly open and something must have knocked it into the drawer. The most likely explanation must be that my dressing gown that is kept on a hook on the door very near to the chest, must have been taken down, swooshing against the top of the chest of drawers and knocking the bracelet inside, unknown to me. The drawer must have been shut later and the bracelet forgotten about. Either that or.......... I must be going stark raving mad!