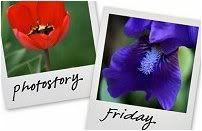 Hosted by Cecily and MamaGeek
Just when everything looks bleak and dark, I notice the little snowdrops pushing up their delicate but obviously strong shoots with buds opening, in the most hostile of places. It never ceases to amaze me the way they keep appearing year after year.
This winter we have had more severe weather than normal, with lots of frost and some snow.
I have been feeling pretty fed up with the kitchen excavations and the way things have been going wrong.
At first, I was filled with hope that we would get to the bottom of my rodent problem. I kept thinking that the men would find a rat run and be able to put it right. Son hurt his arm and we had to spend a good deal of money on a CCTV technician who searched a strange pipe under the kitchen. We were excited that maybe there was a crack in it that could be repaired and that would be the end of the problem. What did we find? Nothing. The pipe was disused and blocked off and no cracks or sign of any thing unusual at all.
We are back to square one. The underpinning has to be finished and now it looks as though we will have to dig up the floor and take off the roof to find where the pests are coming in. Only we will have to wait for Spring. In the meantime the rats ( who are probably laughing their heads off) are partying like mad in the roof space and the poisoning continues and the incense sticks are burning almost continually.
I am aware that there are so many terrible things going on in the World. The fires in Australia, the crisis in the Middle East and the fact that two of my blogging friends have died and left people who will miss them, not least their relatives.
I realize I am letting rats make me depressed.
I am annoyed when my husband and son tell me how lucky I am. Is it lucky to have rats? 
I do know what they mean though, but it doesn't help one bit to be told this everyday. I think of all the people I know who
don't
have this problem.
They
are the lucky ones.
So I go back to the snowdrops that have pushed their delicate heads through that hostile earth. I look at them and realize that I must face my challenge too, but it is getting harder as the time goes on.