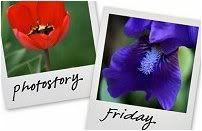 Hosted by Cecily and MamaGeek
Weston Super Mare, such a grand name isn't it? However, if you went there right now you might be disappointed. Not only has the pier been burnt down, but the sea defenses are under new construction. Much of the town is low lying and during high tides, shops and homes are in danger of flooding.
For most of the summer there were cranes on the sea front and I took some great pictures of them. It was very interesting to watch these giants picking up large, heavy equipment.
There was a kind of beauty in all this heavy machinery and I was snapping away quite happily, much to the amusement of my long suffering husband. He ought not to be surprised by now that I always take my camera and a notebook and pen with me when ever I have a day out. There is usually some very good blog material on such a trip.
Don't you just love this crane and the rust tinged chain?
This photo reminds me of Little and Large! Remember the comedians?
When these alterations are completed by the end of the year, Weston will be a great place to visit. The pier will take a little while longer to rebuild but there are plans for a really good building to replace the old one.
It is amazing when we go back after a long time and see the way that the work is coming on and what seems like pointless digging and heaving about, suddenly becomes part of a new structure that looks really good. While visiting we have stood for ages just watching all the men at work. This seemed more interesting than anything else, at the time.
Can't wait for it all to be finished. I dare say I will be posting photos...........