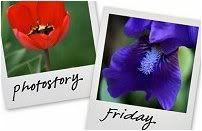 Hosted by Cecily and MamaGeek
Was I too hasty in my
last post
, telling everyone how well the underpinning was going? I think so. You see, we turned the corner and immediately the problems started to happen.
Several fat pipes started to go under the kitchen that we didn't know about. Is this where the rodents are getting in? We will now have to get a firm to check these pipes with CCTV.
Next problem the snow starts to come down faster making it impossible to work. The forecast is snow off and on all week, this doesn't look good. No concreting can be done today and I have a gaping hole under the kitchen.
Sam, my son, has hurt his arm. It has been painful ever since he started digging. He had to go to the minor injury A&E at the local hospital and found that he has damaged a tendon. It will need a weeks rest.
So now I have strange pipes running under the kitchen (over a hundred years old), who knows what state they are in, a gaping hole under the kitchen, a son with a hurt arm, snow and a husband who is not strong enough to do things by himself.
Can things get any worse........ no don't tell me the kitchen could cave in! I need to go out and have a little scream.