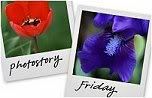 Hosted by Cecily and MamaGeek
Photo copyright of Maggie May.
I'm not quite sure whether those of you from overseas will know just what a Punch and Judy show is.
It seems that this puppet show is a British thing and is a tradition that goes way back to the middle ages.
They are usually to be found on a beach in a seaside town, but this one was on a green patch in a park.
If you want to find out just exactly what a Punch and Judy show is, then go
here
.
Traditionally Punch and Judy are a married couple and the male, Punch is dressed as a jester and has a hooked nose. Judy is his long suffering wife, who is often at the receiving end of a rolling pin. There is a baby that also gets thrown around, and also a crocodile and a string of sausages in the story, not forgetting the Policeman with his truncheon, who tries hard to keep Punch from hurting his family.
Sounds really bizarre when put down in writing and it is certainly not politically correct. However, children of many generations have enjoyed this puppet show and still seem to, judging by the captive audience watching this one.
I stumbled on this show quite by accident and the crowd of children sitting in a circle watching the puppets was in complete awe. Some things never change.
I just had to take a photo of the show.