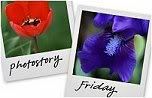 Hosted by Cecily and MamaGeek
These photos are the copyright of Maggie May.
I am not saying that this photo is good, but a Passiflora Caerulea, (Passion Flower), is a good plant to have climbing up a trellis. The flowers only last a day, but they are prolific and eventually turn into an orange fruit. I don't think they are good for us to eat, though the slugs love them.
There is a legend attached to this plant that is quite interesting to read. You can find out more
here
.
I'm not saying this is a really bad photo but it was rather dark in the doorway when I took these unusual sculptures on my way into the covered market and it was not something that I was expecting to see. A skeleton and a crocodile made of metal was too much for me to miss and I whisked out my camera.
I wish I had realized that it would turn out too dark at the time I took the photo as I am sure there would have been a night setting.
Both the crocodile and the skeleton have the reputation of being bad! In children's books anyway.
Now I admit to this being a really ugly photo. No doubt about it!
You might well ask what Maggie May was doing with her foot on a banana skin in the first place. Had she gone really nuts this time?
My daughter told me that a banana skin rubbed on a verruca several times a day, would get rid of it without needing to go to the chemist or the doctor. I am not sure what the result is really, as I only ever tried it the first time. The smell was not too appealing and the skin did go a bit mushy. The banana skin, that is!
I will focus on doing this regularly and let you know the result. In the mean time, the verruca hasn't got any worse, in fact it has shrunk a bit! Maybe it isn't a verruca, who knows!