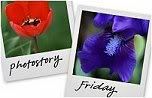 Hosted by Cecily and MamaGeek
These photos are copyright of Maggie May.
I often describe going to my local seaside resort and this is where we sometimes end up having a sandwich while we look out to sea. If we are lucky, the sea is right in, if not it looks miles away and leaves stretches of muddy sand.
We like being here anyway, wherever the sea is.
We quite enjoy sitting in this lovely place. On a good day, it is sunny, if not it is sheltered.
We can't really lose however the weather turns out to be. Except for rain.
Thats the one thing that would upset the apple cart.
Photostory Friday is hosted by
Cecily
and
MamaGeek
. I think it would be worthwhile to pay them a visit.