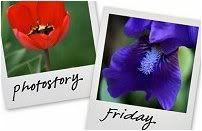 Hosted by Cecily and MamaGeek
I met up with my good friend, Hetty and she took me to this wonderful place, Clifton Suspension Bridge, that is the pride of Bristol. Designed by Isambard Kingdom Brunel the work on the bridge was started in 1862 and completed in 1864, five years after his death. So he never got to see it!
The bridge spans a great chasm (known as the Avon Gorge) there is a span of 213 metres and is 61 metres above the River Avon.
A favourite place for rock climbers, the Avon Gorge can provide plenty of practice but it isn't for the faint hearted. It's a long way down!
Had to risk life and limb to get this picture! There is a toll to get across the bridge but nothing to pay if you go on foot as Hetty and I did!
Even walking on this footpath makes you feel a bit giddy when you look down and the bridge does shake and rock a bit when traffic goes over it.
Look at the lovely view though, and the tide was in on this occasion. We are looking out towards the Bristol Channel that meets the Avon just beyond the corner, on the horizon of the water.
Hetty and I sat for a while on the other side of the bridge and had a good gossip. Then we walked back again, had a walk on top of the cliffs and ended up in a little cafe in Clifton village. We gossiped some more before going home. Hetty is one of those friends that you could say
anything
to and she accepts you just as you are.