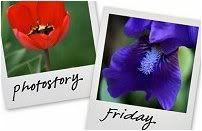 Hosted by Cecily and MamaGeek
Ever had a sinking feeling, when everything seems to get you down?
While I was feeling in that kind of mood not long ago, I was half listening to the radio when something caught my attention. A councellor was giving a little talk and explained that when things start to get one down, it was a good idea to make a list of things that made one feel happy and concentrate on those things for a while.
Apart from the usual things like family, friends, pets and personal faith, what makes
me
happy?
I think that
content
 is  a better word than happy, as happiness tends to be fleeting and contentment lasts much longer.
I started to think about it and made a little list and these are the things that came to mind.
* I am contented when I have a few hours to myself after a busy day at school.
* The start of a school holiday (though this tends to wear off as the time goes on and I might even start to get bored!)
* Spending time with a good book and no interruptions.
* Looking out of the window and watching the birds feeding.
* Snuggling between clean sheets.
* The smell of clean washing.
* Sitting by a fire and watching TV, when the wind howls outside, feeling safe, warm and secure.
* The way the sun shines on a flower or shrub and how intense the light is in the Spring sun.
* Settling down to uninterrupted sessions of photography, writing and crafts.
* Receiving a letter from a loved one who has not written for ages.
* A Saturday evening sharing a take a way and a bottle of wine with my other half.
* Getting on a bus to the sea using a free bus pass!
* The satisfaction felt after doing a dreaded household chore.
* Singing my favourite praise songs with friends in Church.
I could go on and on. Have you noticed that most of these things cost next to nothing? Am I easily pleased or what?
So go on, what things make
you
happy? 
Photostory Friday is hosted by
Cicely
and
MamaGeek
. Why not pay them a visit?