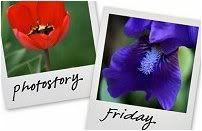 Hosted by Cecily and MamaGeek
In England we celebrated Mothering Sunday (Mother's day) last Sunday. I am not sure if other countries celebrated it on that date or not.
I was fortunate to have my granddaughters come to spend Friday night and Saturday, along with their Dad and they returned home in time to be with their own mum/wife for the Sunday. My daughter also came over from the east coast with the grandsons and spent the whole weekend. We had a packed house and Harry and I were kept very busy.
On Saturday we decided to go and visit a lovely Garden Centre, where we browsed for much of the afternoon.
I helped the eldest grandson, Rick to buy a present for his mum. I had thought it was going to be hard for Deb this year as she didn't have her husband to organize present buying with the children, as he died the previous autumn. Rick is autistic so he really needed to have some help with present buying. Dean, the younger brother, had already managed to buy a small gift from a school sale and both the boys had made their own cards.
I managed to get Rick on his own and asked what he wanted to get for his Mum. He had no money so I knew I would have to buy a present! He spent quite a long time looking and then spotted a huge dragon ornament. It was breathing fire and had wings open. It was obviously too expensive and was getting on for a hundred pounds!
Rick understood that he couldn't buy it but was hankering after that dragon for a long time and couldn't take his eyes off it and talked about it for a while afterwards.
Eventually we saw some small garden ornaments that we could afford, as Rick was completely set on buying one of these and he eventually bought a small stone donkey pulling a basket with room for a little plant to go in the back. He was very pleased with that.
We all bought something at the Garden Centre. My son,
Sam
, concentrated on buying things to eat for planting in his garden and came home carrying assorted currant bushes as well as a small tub of pretty flowers for the girls to give their mum.
On our way out, we noticed these upside down plants in pots and I just couldn't resist taking a photo of them. I have never seen anything quite like them before. However I resisted the temptation to have one as there was nothing that I could have attached one to in my pocket sized garden.
It was lovely and warm over the weekend.... just like summer. This week the weather turned around and it is as cold as winter again. However I will remember that Mother's Day weekend as a really pleasant one, spent with my family, receiving presents and being taken to put some silk flowers on my parents' grave.
The love of a family for each other, is not to be taken for granted.
I feel I shall remember this particular one in years to come! Maybe I am just being sentimental.