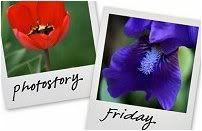 Hosted by Cecily and MamaGeek
As many of you know, I am very much into recycling and saving things.
Harry and I have both taken large things to the city tip and smaller unwanted items get taken to Charity shops.
I am still putting out my clippings from my garden shrubs for the Council to pick up weekly and that seems an endless task. By the time the honeysuckle on one side of the garden has been brought under control, it is time to prevent the shrubs on the other side from taking over. Never mind, I do not begrudge the Council from taking my cuttings and turning them into compost to be sold, even though I pay for the bin hire. No I think that is a very good thing to do.
I am still saving all the paper and separating it from card. The aluminium is still going to Church to sponsor a girl in Bangladesh and I still tend to pick up cans in the street for recycling when I see them cluttering up our local area.
I sort out glass and tin for the kerbside collection and I take plastic to recycling points. Now we can take plastic bottles and plastic bags to the same point and also even silver lined milk cartons too.
I've mentioned before that it is all rather time consuming but I don't mind in the least.
I am sometimes concerned when I read that things that have been carefully separated and recycled have been seen to be squashed back together only to be sent to China or another faraway country, in containers for disposal there. Other news bulletins have proclaimed that recycled things do end up in landfill sites either here or in distant lands, but I give the Council the benefit of the doubt, thinking to myself that it is all worthwhile and the majority of recycled stuff does go to where it is supposed to.
The latest thing is to try and get rid of the use of plastic bags. They are horrible things and take years to break down and animals get their heads stuck in them and suffocate or chew them up and die. Many shops are now asking if you can manage without a bag and some even charge for plastic bags and this seems to be a very sensible idea.
I cannot resist the temptation to buy a cheap cotton bag from a charity shop or supermarket to help a cause and to save the planet and have more than the collection in the photograph. So please tell me why I inevitably get to the shops and forget to pick up the bags before I set out? Thus leaving me bag-less!
Might it be better to give out paper carriers with our goods, like they did when I was young, even if there was a small cost? Of course that was in the days before plastic bags were invented.
Photostory Friday is hosted by
Cicely
and
MamaGeek
. Why not pop over and see some really good posts?