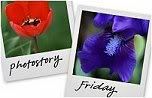 Hosted by Cecily and Izzy 'N Emmy
All photos are copyright of Maggie May
Wherever I seem to go there is a beady eye staring at me. In fact we are never very far away from seagulls or pigeons where I live.
I went for a day trip by the sea not long ago and a woman I got talking to on the way home, told me that she had had to go and buy a new top because a seagull had pooped all over the one she had on, as she said it was impossible to clean herself up with tissues or wet wipes.
I have often been pooped on by these birds and felt this splat of warm nastiness on the top of my head. Now that IS a horrible experience.
Once when visiting St Ives in Cornwall....... a beautiful seaside town, Harry had a seagull poop down his glasses and it was like thick mud that couldn't be wiped off properly. He ended up going to the gents and the assistant made him pay to go in. "I only want to wash off this mess from my glasses," He complained.
She had no sympathy whatsoever and insisted that he payed his money even though he didn't want to use the toilet. He was quite peeved about that.
While we were on that same visit, we saw seagulls snatching ice creams from children and terrorising them. Aggression in seagulls is not uncommon.
Pigeons are often fed and this encourages them to flock into the cities. So it's no wonder that they are everywhere because we humans throw down so much food.
Isn't it strange that it is completely frowned on to feed the common variety of feral pigeons but quite acceptable to feed the wood pigeons that frequent our gardens? They seem so much more respectable somehow.
Some people are really afraid of fluttering birds and will go right out of their way to avoid them. I know someone who is absolutely phobic about birds of any kind and she avoids them at all costs because to walk through a group of pigeons would cause her absolute panic. She is a very brave lady in every other respect though.
The pigeon in the picture below, even made a plant pot into a nest and the owners were using the pot as a window box. Cheeky thing staring into the front room, like that!
Photostory Friday is hosted by
Cecily
. Do look her up to see some really good photos and stories.