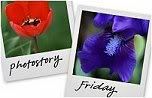 Hosted by Cecily and Lolli
Photos are copyright of Maggie May.
A few weeks ago when my daughter and the two grandsons were staying with us, we decided to go to Birmingham to meet the boys' other grannie and we ended up at the Black Country Living Museum.
This was a lovely place to go and there were many houses and shops depicting life as it would have been in late Victorian times. In fact there was a little village with several streets. All these buildings had been dismantled from somewhere else and had been reconstructed just how they used to be in this little village. There were actors on the streets and we listened to little disputes mostly between mouthy women. I really felt that I had been transported back in time.
In the streets there were skipping ropes, metal hoops and hopscotch games to try out.
There was even a canal and we came across this authentic house boat complete with lady dressed as she would have done when these long boats frequented English canals.
I love the art on these traditional metal coal scuttles that were used to store the coal that lit the tiny stove in the minute living space. The houseboats were pulled by horses along the tow path and when they had to go through tunnels, the horse was taken over land, probably by a child and some strong fellow had to lie on his back and walk along the top of the tunnel to propel the boat through. I expect everyone had to join in as the boat would be heavy.
In the photo below, I managed to get a picture of the living conditions below deck and how it would have looked years ago, when families of many children had to live in such cramped conditions as in this tiny bedsit.
I sometimes think I am badly done to, but realize how lucky I am having so much space in my ordinary terrace home. How could any family manage to bring up a family in such a small place?
Photostory Friday is hosted by
Cecily
. For more interesting stories and photos why not visit the link?