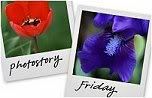 Hosted by Cecily and Chris
All photos are copyright of Maggie May.
Practically everyone in Britain will remember Jill Dando, the journalist and TV presenter who was famous for programmes like Crimewatch and Holiday, Breakfast News and Six O'clock News. She was gunned down and murdered outside her home in April 1999.
This caused a wave of shock throughout the country as she was a very popular person.
There was a team of make over gardeners on BBC TV around that time, called Ground Force, led by Alan Titchmarsh. Some time after her death, they televised one such programme changing an old rose garden in Weston Super Mare to a beautiful garden in memory of Jill, for she was from that town and had spent her childhood there with her family.
This is a general view of one side of the garden. The blue pagoda type trellises and obelisks provide support for plants and give colour when there isn't much in flower. There are fish in the pond and some lovely water lilies.
And this is the other side of the garden. Luckily there were no other visitors at the time I chose to take photos, as it can get rather crowded.
This was a specially made plaque depicting Forget-me-nots, for obvious reasons. There were shadows of leaves falling across the plaque that obscured the picture a bit, but I liked the effect of this so did not change it for a clearer one.
There were Alliums peeping out from behind a pagoda and it was so difficult choosing just a few pictures for this post. I took many more than I needed.