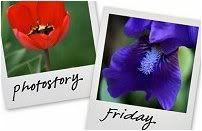 Hosted by Cecily and

Rachael
Photos copyright: Maggie May
This post has been in my draft folder for ages....... so it needs an airing!
I will post you with an update of my treatment and progress next post.
Back in the summer holiday my son,
Sam
, asked me to go with him to Topsham in Devon, where he was going to be dancing with the Morris Dancing group that he belongs to. I realise that some people overseas will not know what that is but if I say British folk dancing with sticks and bells then you will get the general idea.
The weather around that time had been glorious so I was quite eager to go with them.
First hiccup was when Sam realised that he had left the children's car seats in his wife's car. She was somewhere in a different town, but all was not lost, she had gone by train and had left her car a few miles away. Sam whizzed across the city and got the car seats and off we went.
Five minutes into the journey I realised that I had left my handbag that contained all my money and mobile phone and camera at home and had just picked up the bag with the family things for the journey in it. Son very kindly agreed to go back and get it. We were now running slightly late.
We were supposed to cross the Clifton Suspension Bridge but when we got there it was closed. That meant a huge detour. This was getting serious.
Sam phoned the group to say he would be missing the first set of dances and apologised. We hurtled along the motorway ( safely.)
"Look at the map and tell me which exit to get off," Sam asked me. This was the map that the Morris Dancing team had given us. Very scant directions.
I studied the map but there was no information to say which exit to get off.
I rang a friend of Sam, who was also going and he had been delayed too, because of the bridge. He gave the right exit number and rang back several times to see how we were getting on with the journey. He had been before.
Millie said she wanted to pee and couldn't wait, so we had to waste more time going to a Service Station.
We started off again and the phone went. I explained we were just coming off the motorway and there was a sort of silence on the other end. Turned out it wasn't Sam's friend but a man wanting him to look at a kitchen to see if he could do some work for him. Sam is a carpenter. We had a good laugh about that and after a few wrong turnings found the way into the harbour side where the Morris Dancing was taking place.
Arriving in the car park, Sam had to go behind some bushes to change into his Morris Dancing trousers. *Don't let anyone think he is a flasher* I was secretly praying.
All was well. The dancing had started but Sam was able to carry on with the rest of the group and his friend, who had also been delayed because of the bridge closure was there just ahead of us too.
From then on, things started to get better. The girls found a friend to play with and a group to keep an eye on them, while I was free to explore the beautiful High Street. A small road steeped in history. I had a good half hour to myself and took some great photos that I will be able to use for a different post. We had lunch in a large room belonging to a pub and we were full to bursting by the time we had finished. I really don't know how Sam managed to dance after that as he had three more sessions of dancing to do.
We went to several different sites and had to walk through the countryside to get to the last engagement which was by a farm. There was a short cut, (we were told) through a lane. All the Morris dancers seemed to have disappeared. We waited and waited for about ten minutes. After a while, Sam rang his friend and asked where they all were.
"Waiting for you," was the reply. They had set off in a different direction from the back of the pub and we were waiting in the front. The friend told us the way was by some railway lines.
We passsed the lines and didn't see anyone and we walked for what must have been a mile. The children were really tired by now and had to be coaxed and bribed to carry on.
After several phone calls, the friend realised that we had taken a huge detour of about a mile and a half out of our way. We had completely missed the small lane by the railroad crossing that was only a five minute walk and had crossed a bridge and walked straight on.
Sam was really tired by now and had to dance for another hour or more without stopping.
However,the children were very happy because they had arrived near a children's play area and next to some farm animals in different pens. The sheep and alpacas had just been fed and were munching their way through huge cabbages. The sheep were enjoying them very much but the alpacas were daintily picking at them without as much relish. The noise of the sheep munching was really loud. I watched for ages. It doesn't take much to keep me happy!
In case you are looking for cabbages in the above picture, the photo was taken before the cabbages were brought to the field in a wheelbarrow and somehow or other I missed the opportunity to take more of them munching.
Eventually the dancing was done and we all sat and talked for a bit and ate nibbles and suitable drinks for the drivers.
Just before sunset, we started off for home. Girls fell asleep in the car and this time we had to stop off for a toilet break for Sam.
I can assure you that everyone fell into bed that night very quickly and slept very soundly. How do I know that? Well they were all at my place for another sleep over.
Photostory Friday is hosted by
Cecily.