I was astounded on Saturday when I learned that someone had nominated me for two of the 2010 MAD awards. *Blogger of the Year* and *Most Inspiring MAD Blogger.*
You might be forgiven for thinking that MAD means NUTS, (as I did, at first,) but it stands for Mums & Dads. It should really be GAG (Grans & Granddads) but of course I am a mum, too.
Thanks to whoever nominated me in the first place....... it has made my day..... my week....... my year..... well my life! That is a bit too mad, I think.
Now all you have to do is to nominate me, (each person who wants to) in case I get into the final stage, where the person who has been nominated the most gets to the part of the competition where you can vote........ please, please, PLEASE. I am not begging or anything.
Just click on the sidebar or the logo beneath. PLEEEEEEEAAAASE.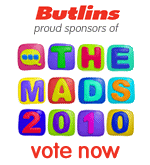 If I am having chemo this week, I will be kept busy because I am knitting these trauma teddies for children who have gone through hard times or illness, either in this country or in the third world. Doctors in the third world say that small children do better when they are in hospital if they have their own cuddly bear and as they take them home with them when they are discharged, the bears need to be replaced continually. Some of them are sent to countries where there is unrest and war, earthquakes, floods...... anything that causes the children to be traumatised.
I expect you remember that I recently went to Birmingham to see my grandsons' other nanny and she inspired me to take up my knitting needles again and knit for charity. She is making these teddies and also making coats and bonnets for premature babies.
The other day she posted me the patterns for all these things and I am going to post the completed items to her in small parcels as and when I finish them. I wish there was a nearer drop off point to me. The premature coats and bonnets are like tiny dolls clothes. I shall enjoy doing those.
Hopefully this project will help me to forget about the side affects of chemo. Will let you know if it does, though I also have an arthritic wrist, which hurts when I knit. Always something to put up with, isn't there?
The brown bear in the photo below has not got extra short legs, he is just sitting down.
I have just completed Chemo 6 and will now lay low for a bit.