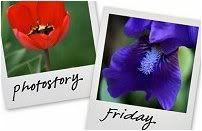 Hosted by Cecily and MamaGeek
This is the photo of my little shed that I painted blue. I was wandering round Wilkinson's and spied this little snail in the exact colour of blue to match. Well I have enough real snails in my garden without adding artificial ones too. I bought it, though, for cosmetic reasons and it lived on the top of the shed roof and looked like it was meant to be there.
Meanwhile, all the real snails get thrown over the fence onto the service lane behind! This gives them the chance to "scuttle off," in a snail like way, if they survive their flight! If not and they get run over.......... well I didn't have to kill them did I? They had a chance!
I went down to the shed the other day and noticed something was different! The plant had obviously grown a bit but the snail was gone! Had it crawled off in the night? Hardly likely! The real culprit from next door was sitting on the shed wondering what I was going to do about it! Well it might not even be him! There are four of them living next door and they all like to curl up on my shed!