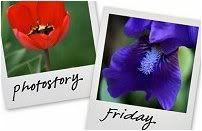 Hosted by Cecily and MamaGeek
Not long ago on a Saturday, Harry and I used our bus passes and went a long journey! We arrived at a suitable place to take photos. Well I wanted to take photos and Harry was happy to just be there and admire the scenery.
Well, I was happy as a sand boy snapping this, that and the other, when all of a sudden my camera jammed. The zoom wouldn't go in or out and that left the lens open, which I gather is not a good thing. I found a camera shop and explained what had happened. They examined it and took out the battery and the zoom snapped shut. I had got a flat battery. Feeling rather foolish, I thanked them and was a bit annoyed that there was so much to photograph and my camera was dead! Blast!
"Never mind," Harry said, "We can come again next weekend when the camera is all charged up." I thought that was a good idea and that was exactly what we did.
Only this time it was raining! Not possible to take all the lovely photos! Oh well might as well go into the shops and look through the second hand book stalls out of the rain. I bought a book and when we were on our way home we passed a stream and I felt something had moved on the edge of my vision. I went to investigate and saw baby ducklings. They seemed to be on their own. Then I looked closer and saw the mother with about six babies. She let me get quite close and I zoomed right in and took the photo. I felt that was worth waiting for. 
Harry and I will try another weekend and see what else we can snap when the weather is better.
We might even be able to take photos of the ducklings when they are bigger, if they are still there.