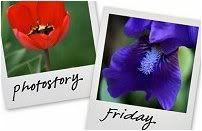 Hosted by Cecily and MamaGeek
When I was nine years old I was friendly with April, a girl from the same school that I went to. We had recently moved house and I didn't know many people, so April was one of the first friends who I saw out of school. We started to see each other in the evenings and at weekends. She told me she had a baby sister called Suzie. It turned out that Suzie was a life sized doll and that April's father had died young, so there were no other siblings.
Suzie must have been the envy of every girl for miles around. She had a porcelain face and was dressed in real intricately knitted baby clothes. She had fair curly hair and was pushed around in a pale blue "carry cot on wheels" type of pram, that was very unusual in that era and I would have given my eye teeth for one like that. Girls in those days seemed to play with dolls much longer than children do today and on the whole they seemed much younger in comparison to the same aged children today. The above photo obviously does not do justice to the real Suzie and this doll is just a cheap one belonging to my grand daughters.
Apart from the fact that she was a much loved doll, Suzie must have been valuable. She was April's most treasured possession, so much so, that she thought of her as her own sister.
One day after playing at our house, April ran home for her tea, leaving Suzie in her pram with me. She was supposed to come straight back for her after her meal but as the time ticked by, I realized she had not been allowed to do this.
I took Suzie out of her pram to play with her. I cuddled her and carried her around with me like a baby. I then made a crucial mistake of sitting her on the dining room chair next to the table and pretended to give her a meal. Crash...... Suzie fell sideways to the floor and her face cracked in half!
To say that I was mortified was the understatement of a life time. It might just as well have been the end of the world. How could I tell April that Suzie was dead!
After I'd cried and was almost sick with fear, my mum, who was very matter of fact, said, "Well if she was so precious, then why did she leave her here in the first place?" She then went on to tell me that I must give April one of my own dolls to make up for it.
I took my doll, Elizabeth, with the cheap pottery face and the bald head. Although she was much loved, she wasn't a patch on Suzie.
"Come on then, better face the music," said Mum as we pushed the pram towards the road where April lived. I could hardly walk.
The bell rang and a look of pleasure fell upon April and her mother's face when they saw the pram.
Then they noticed the face! Tears welled up in both their eyes, though politely they took Elizabeth and closed the door. Mum had done the talking, but what could be said?
Things were never the same after that. Mum said that the friendship would have cooled anyway, as April passed a scholarship into a boarding school so we wouldn't get the opportunity to see much of each other from then on. However, I knew the real reason why we didn't stay in touch. It was because of Suzie and what I had done.
I still squirm with embarrassment and remorse at the memory and April if you happen to be reading this, then I am truly sorry!