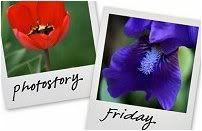 Hosted by Cecily and MamaGeek
WELLS Somerset.
CLEVEDON, Nr Bristol.
I have a passion for chimney pots and always seem to be snapping pictures of them, like the picture of the house above and the whole street above that!  I am not sure why I like them so much, but I find them fascinating.
I was snapping away as I do, while I was in Scarborough earlier on in the year. I nearly discarded this picture altogether as the chimney pots were not terribly interesting. Then I noticed the background. I hadn't noticed Scarborough Castle in the distance! It was a murky kind of day and the horizon was misty, giving a kind of ethereal feel to it. The castle is just a ruin now, but the site goes back to Roman times!