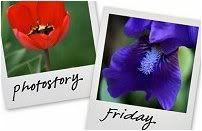 Hosted by Cecily and MamaGeek
I just
love
dry stone walling. This one is typical of the many walls that inhabit the Lake District and surrounding areas. I am reminded of the many Lakeland holidays that I used to have camping and then caravanning when I was a child. My Grandfather, aunties and uncles lived there for many years, so our holidays were always spent there.
These walls are built solidly from sturdy, light coloured stone. Always finished with the upturned stones on the top. They provide shelter for the animals and of course they keep them where they are supposed to be.
This one is purely ornamental and Harry & I stumbled on it while visiting some gardens. I loved it, so snapped it up.
I should imagine that in any dry stone walling, all sorts of creatures would make their home between the stones.
I think life can be a bit like a dry stone wall, sometimes. You have to have solid rocks at the bottom to support the weight of the next layer. With people, it is our roots that keep us firmly placed. People come in an assortment of sizes, shapes and colour. The stones have to work together, just like people do. If one gets taken out, the rest are in danger of going down. 
However, if they all work together, then they stand the test of time and endure even the worst storm.