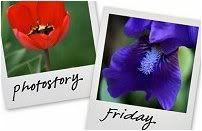 Hosted by Cecily and MamaGeek
This is a very strange thing to fix on to the side of a house! I took the photo when I was travelling some time ago and thought it was worth a picture! 
I should imagine that birds would love to nest in the nose but didn't see any evidence of them doing so. Was not sure whether to call this story "The house that knows" or " The nosey house,"so you can take your pick! Oh......... pardon the pun! Did you get it?!
It is quite unusual as the nose is made of wicker and is somehow or other fastened to the wall. I have never seen anything quite like it before. Just happened to stumble across it!
So there you are, not much of a story this time!