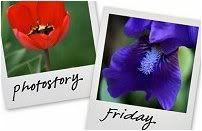 Hosted by Cecily and MamaGeek
What can two small but energetic girls do when there is a non pupil day at school?
Well....... we can play with the dolls house and the barbies!
We can try our hand at painting! Not quite finished yet!
We can go to the park and look at the view. Isn't it lovely? 
We can get Granddad to help us feed the wild life.

We can try and stop the pigeons from getting the nuts that we brought for the squirrels.
We were lucky that it didn't rain in the park and we had a really good time.
We had to climb down some steep steps and Grannie said, 'Don't go so fast as Grannie and Granddad cannot keep up and we could break our legs if we slipped.'
One of us said, 'That would be awful because we wouldn't have a bus ticket to get home!'
They thought that was quite funny but we didn't get it! Grown ups laugh at the strangest things!
Just as we jumped off the bus, near home, the sky went black and the rain tumbled down. We had to run very fast, so as not to get too wet. Then we had to take off our trousers and jackets and dry them because we did not run fast enough!