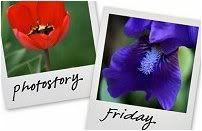 Hosted by Cecily and MamaGeek
I have messed about all summer trying to get a photo of a butterfly! They are so fast.
Some days I haven't got a camera handy and by the time I run in and get it, the pesky thing has flown away.
Other times I have the camera handy and there doesn't seem to be one anywhere in sight.
This time I managed to get a snap of one, but it is not very good. The butterfly is a skipper that seems to thrive for a while around my garden and surrounding neighbour's gardens. It landed on a bamboo plant.
I am not at all happy with the contrast on this photo but as I set out to photograph a butterfly on a plant, earlier this year, I don't think I will have many more visitors of this kind as the weather is on the turn, so it will have to do! Surely no self respecting butterfly is going to venture out in the cold!
Next year there will be a great picture of one!