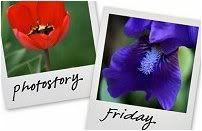 Hosted by Cecily and MamaGeek
My garden has been taken over by scaffolding. Most of you know that we have had renovations here on our kitchen roof.
This is the point that I put a warning on this post. If you are squeamish do not go any further.
This is the roof that has held a terrible secret for six years. The roof that has caused me so much misery, often to the point of making me despair. The cause of all the noises, the smells and the frustration of not being able to get to the source of the problem because a pitched roof was built over a flat one, making it impossible to investigate let alone
do
anything. The cause of rows between Harry and me. The roof that has been the reason for my feeling trapped and not even having the option of moving away from the problem. The roof that has made me feel like running away. The roof that I have blamed for ruining my life over and over again.
And this is the start of the discovery of just what it was that was making my life such a misery. This is the hole that was revealed once the fascia board was taken off the side of the roof, on my neighbour's side. There was no sign of the hole until that moment. This is only one of the holes that was found.
This is my last warning for the squeamish not to look any further.
The men had decided to cleanse the roof from the outside in and took off the tiles and felt and also the flat roof, leaving the kitchen ceiling directly under the scene above. This is what met our eyes..... rat runs. You can see the way that they have chewed up the insulation and they had also started on the wiring and had stripped several wires of their plastic outer casing. Fortunately, the wires were not touching. I hate to think what might have happened if they had been.
This was number one body that was found amongst the chewed up insulation that had obviously been used as bedding. There were five of the pesky rodent bodies hidden away at various points in the roof. No need to show them all, as after you have seen one, they all look the same!