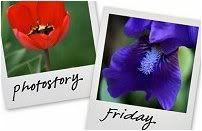 Hosted by Cecily and MamaGeek
Some time ago my son,
Sam
, asked me if I'd like to go on a trip with him to Dunster and of course, I said I would love to.
I like to think that he asks me to come out with him because I'm such good company but it is probably because I help to keep the children in check and it is easier to have some extra help! Kaiko, his wife works long hours in another town, so when I go out with the family, it is only ever with Sam and the girls. Otherwise he is happy for them to all go off as a family.
Sam belongs to the National Trust and so he gets in free. Well not really free because he pays an annual subscription but he can go to as many places as often as he likes.
Dunster is situated in Somerset and is near Minehead on the Bristol Channel. The town is famous for it's castle, but because we went before the castle was officially open, not yet being Spring, we could only walk through the grounds. However these were really beautiful and we took a picnic with us and found a lovely place to eat. Squirrels and a robin came to join us and shared our crumbs and it was then that I knew I'd have to get a better camera. The creatures were too fast for mine.
There are lots of little doorways and archways in the grounds of Dunster. It seems that every turning there was something lovely to see.
The castle ruin at the top of this picture seems to haunt many of the scenes wherever we looked.