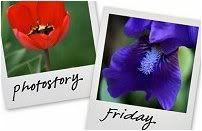 Hosted by Cecily and MamaGee
While on a day trip recently, I came across this dog made of pieces of metal, nuts and bolts that were skillfully put together to look as though they had been made of junk, I think.
Any way, I thought it would make a really good photo so I snapped it straight away.
Imagine my surprise when I transferred the photo onto the computer and I saw the real dog in the corner!
At the time I took this photo, I honestly didn't notice it at all. I guess it was moving quite quickly.
Do you think I could have been quick enough to capture this scene if it had been engineered? No way!