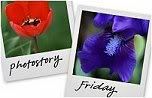 Hosted by Cecily and MamaGeek
Like Liverpool, Bristol was very much a part of the Slave Trade, (was it 400 years ago?) The city prospered because of the buying and selling of slaves and many of the beautiful buildings that are standing now were built with *blood money* from the profit of it. I don't know all the ins and outs of what went on, but can well imagine the horrors of it and most people are repulsed by that era, so Bristol decided to *apologize* for it's part in the evil practice by naming this new bridge after a slave who was documented as being sent here. His name was Pero and this is now called Pero's Bridge.
It certainly can't make up for the horrors that went on, but maybe the bridge can be a reminder of the past and what happens when one race feels superior to another.
The two great, heavy horns on the bridge are used to balance it when the bridge goes up to let a tall ship go through!
Thumbelina, from
Secret Worlds
chose me and five others to take part in a photographic meme.
The rules were, that you had to go to your photo files and open the sixth one and choose the sixth photo in it and publish it. Then choose six more people to do the challenge.
I looked in my sixth folder at my sixth photo and found personal photos that I didn't want published, so I altered things a bit and reversed the challenge.
I went to the last photo folder and opened the sixth folder from the end of that and counted six photos from the end of the sixth and came up with Pero's Bridge and I am quite pleased with it.
Over to you now. I am not very good at choosing people, so are there six of you out there who want to do this meme?