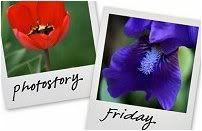 Hosted by Cecily and MamaGeek
Our visit to Minehead really follows my recent post about
Dunster Castle
, as we went there directly after wards.
Minehead in Somerset, is on the Bristol Channel, just before it opens up into the Atlantic Ocean and starts getting really rough.
Minehead takes me back to when our children were young and we had several family holidays there. A small rather old fashioned town with it's own steam trains and a holiday camp.
The sea goes out quite a long way, all along the Bristol Channel coastline, but the tides are high, rapid and treacherous. Not good for bathing, but the children enjoy the sand.
After Minehead, we visited the lovely little town of Watchet very nearby. This is the lovely little harbour with it's own light house.
I love to see the little boats taking refuge there.
Now here is the *Ancient Mariner* himself, holding his albatross. Do you remember the poem by Coleridge?
And this man...... well I really do not know who he is, but he seemed a friendly sailor. I even had a photograph taken of me sitting on his knee, but you are not seeing that one! Too cheeky!
As usual, the ordinary things in life seem to grab my granddaughter's attention and this little cat was no exception!