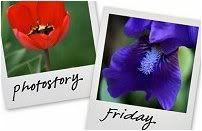 Hosted by Cecily and MamaGeek
I had walked past this carousel several times with out thinking much about it. I didn't have any grandchildren tugging at me and asking for a ride, in fact I had barely noticed it. Suddenly it dawned that I could practice with my new digital camera!
This carousel was turning as fast as it could go. My camera had a setting for *moving objects* and I was aiming for the small part of the ride that had no people on the horses. Not an easy task, but one that would have been impossible with my older camera.
I was amazed to see that the photo hardly looked as though the carousel was moving at all.
Not sure if that is good or bad but it wasn't blurred.
This one was taken using macro and by now, the horse was stationary. Looks inviting, doesn't it? However, I resisted the temptation, remembering my vertigo!
For this picture, I stood back a bit, using a general setting after the merry go round had stopped. I can't help but think it almost seems almost like cheating to have these different settings and I have yet to try to capture a lovely butterfly close up or a fluttering bird.
However, so far I have been very pleased with the results of photos taken with my new camera.
What do others think?
Please remember that I am a technophobe as a rule, so don't blind me with science!