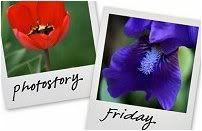 Hosted by Cecily and MamaGeek
This little jug is very old. Maybe getting on for a hundred years! In fact it belonged to my Grandmother. I don't suppose it is valuable as it was being sold in a market place, where it was stolen. It was stolen by my mother, when she was a small toddler. She must have been attracted to the colour because when the two of them returned home, it was firmly clenched in my mother's hand. 
My Grandmother, who was a very honest and upright lady, went straight back and paid for it. So in the end, it was legitimately hers.
I always liked this little jug when I was a child, so recently took the photo to go with the story. Is it supposed to be the other way round? Oh well... that's the way it was!
I am reasonably pleased with the photo. I took several and this was the best of the bunch, but it is not perfect!
Any way, I'm sure you'll agree it does come with an interesting story!