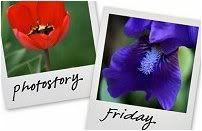 Hosted by Cecily and MamaGeek

This is a photo story hosted by
Cicily
and
MamaGeek
. It is held every Friday. It is my story and my photo.
This week I have again taken a photo to fit the story. I expect you are thinking that my pictures are not up to scratch and that I am really a story teller.
The sad looking bear in the blue scarf and jumper was mine when I was a baby. So he is a bit older than me, I should think and survived World War Two! However, he was to undergo many other things in his life, as my slightly younger brother knew just how to wind me up when he flung my bear repeatedly out of the upstairs window and onto the rockery below. It is no wonder that he has lost much of his hair and has a gammy arm. (I am talking about my bear now, not my brother!) I have never wanted to part with my bear that was called, Teddy, who sits on top of a book case with some of his friends.
The bear in pink is five years younger and belonged to a friend who I don't see now. He looks as though he had an injury over his right eye, but she didn't have brothers or sisters to knock him about. She must have done it herself! I don't really know how I came to have him in the first place. Maybe she wanted to clear up her house and thought I was an eccentric person to pass it on to! If she is reading this, please take him back.
Little bear belonged to my daughter when she was a bit older than a baby. He is a "suck a thumb" teddy and has a little open mouth & a huge thumb to stick in it. I think she took it to her house when she got married and I'm sure her boys played with him when they were much younger. One day when I was staying over at her place I noticed a big bag of toys that were bundled up for charity and I couldn't resist looking in! "What!" I exclaimed, "Are you throwing out 'suck a thumb' bear?"
I took him home & he sits near my computer. Mad or what?
Next time I will try and pick a real photo!