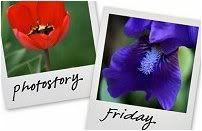 Hosted by Cecily and

Sue
Photos copyright: Maggie May
Although these photos were taken in the Black Country Living Museum in Birmingham, I can remember similar scenes in my Grandmother's home.
The fire range above with the brass fender round it was the heart and soul of my grandmother's back room. The coal fire used to be lit everyday, no matter how hot it was outside and I can remember feeling as though I was in a furnace when I was a child, visiting.
There was always a kettle on the hob, just like in the picture and sometimes there was washing drying or airing on the fender.
This was a typical kitchen scene but it was a room that was always called a scullery. There was cold water in the tap but any hot water had to be carried in from the fire.
This is just some of the equipment that was needed for washday. Notice the wooden rollers on the mangle and the dolly tub for rinsing that had to be hand filled. The dolly is the wooden paddle that had to be twisted by hand to agitate the washing. If you look above the mangle, you will see a tin bath hanging on the wall for the weekly baths (shared by all the members of the family) and all the hot water had to come from a small kettle heated on the coal fire. Understandably the bath was never very deep and the water was filthy by the time the last member of the family got in.
Notice the boiler in the corner for boiling up clothes. There is a space on the other side of the wall for a coal fire to be lit to heat the boiler. Think how that would be on a wet day, having to go outside and try to start a fire before the washing was even started.
The photo below was a typical toilet called a midden! It was just a hole with a bucket to catch everything. Fortunately, my grandmother had a modern outside toilet with a flush! The towns had sewers but out in the country the slops had to be buried.
Remind me never to moan again about my chores.