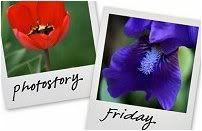 Hosted by Cecily and

Emily
Photos copyright: Maggie May
Here I was with three African Land Snails in my care until the end of half term. I took them home from school because my two granddaughters have been hankering after pets for a long time.
I think they were thinking more in terms of warm and fluffy though, rather than hard and slimy.
Day one, the girls seemed quite interested for a while but they kept asking when the snails were going to move as they did seem to have very long periods in the plant pots napping.
Although I am rather cruel to the snails in my garden because I chuck them over into the back lane,( giving them the chance to get out of the way of vehicles that go there), these pet snails brought out the protective in me and I lived in dread of something happening to them while they were in my care.
They loved lettuce and pears and cucumber and they had to be sprayed with tepid water everyday.
Eventually I had to pick them up and clean them out before returning them to school. Not as bad as I thought, though I did put on rubber gloves to do it.
I suppose even these creatures are a tie when holidays come, which is the main reason why we can't go fluffy because those kinds of animals seem to be even more dependant pets than snails!
Back to the drawing board!
Any one know of anything that is no trouble, but more interesting than a snail and that is definitely not a rodent?
Photostory Friday is hosted by
Cecily
. Do look her up!